It's Your Time to Flourish!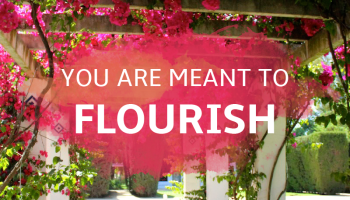 Did you know that a lot of the toxic people in your life love you? In fact, they may love you dearly.  Don't think for one moment that those people that are toxic are always cruel and uncaring towards you.
They're not.
Then why are they toxic?  Because their needs and the way that they exist in this world will force you to compromise yourself and your happiness.
Toxic people don't have to be bad, what you need to realise is that they just aren't right for you.
And one of the hardest things that you will ever have to do is let them go, because you won't see them as 'bad'.
You will have to face hardship, stress and heartache in your life and that in itself is difficult enough without having people around you that bring you down.  It doesn't matter how much you care about them, you need to know that for the sake of someone else you can't destroy yourself.
It's time that you made your well being a priority and to you that may mean breaking up with someone that you care very much about, or reducing the time you speak with someone that lives far away from you.
If you're in a painful situation then you have every right to leave, you don't have to give reasons, but you need to make sure that what you do is to create a safe space for yourself.
A space where you can grow and flourish, where you surround yourself with like-minded people.  Not 'yes' people, but people that will challenge you and help you grow without destroying you.  People who will let you be you, who won't criticise you for being you, for having feelings or for wanting to grow and understand you.
Have a look around your life and see who is toxic to you, you will survive without them in your life.  Yes, it will be bloody difficult to remove them from your life or you from theirs, but what price is your happiness?
What price are you paying for them to be happy? A relationship is about give and take it's not about huge sacrifice at the cost of your own happiness, nor at the cost of theirs.
And remember that sometimes you may be the toxic person to someone else; you're just not suited.  You have different views of life and that's OK.  It doesn't mean that you're a bad person but you need to allow yourself to be removed from their life.  Don't try and cling; instead surround yourself again with like-minded people where you will flourish and where you can be the best that you can be.
Katrina-Jane